How much do you like these maps and this history 1-10
After the first World War, the Russian civil war rages on, with Lenin gaining support of the Germans and the Soviet Union forming an alliance with Germany.
Austria-Hungary and the Ottoman Empire become extremely unstable.
In the Ottoman Empire, the Arabs had not yet revolted but tensions were reaching an extreme. The house of Saud intervenes and forms a large Arabian state made up of modern Israel/Palestine, Jordan, Syria, Iraq, and Saudi Arabia. Kurdish rebels also form an independent Kurdish state with support from Arabia. Turkish client states in Egypt/ Caucasus declare independence. Armenia and Georgia take some land. To make matters worse for the Turks, Bulgaria declares a war and takes Constantinople within weeks, then ransoms it for the rest of Thrace.
Austria-Hungary survives a few years, then falls into utter disarray as its client states declare independence and other ethnic groups rise up. The Hungarians even make it clear to Austria that they desire independence. When Germany realizes Austria is falling, they annex all of Austria and Bohemia. Poland and Ukraine sweep in and take parts of Galicia. Chaos follows in the Northern Balkans, as Hungary struggles to hold onto Croatia, Slovakia, and Transylvania. They manage to suppress Slovakia with a little help from the Germans, but Germany also wants an alliance with Croatia, so it forces Hungary to make peace with Croatian rebels. Romania manage to take much of Transylvania. In an effort to bring order to the region, Germany proposes a peace between the Serbian and Croatian rebels. However, the Balkans have become chaotic once more.
Germany, now sympathetic towards the Soviets, allows them to take back Georgia and Ukraine. Stalin takes power in the Soviet Union soon after, and he has a different Agenda.
Map of Europe after WW1, the Great Arab Revolts, and the 2nd Balkan Liberation.
I am not going to explain WW2, but I will give the alliances.
Germany, Bulgaria, Hungary, Croatia (later Yugoslavia) & German Puppets vs. France, Britain, Soviet Union, Italy, Romania, Serbia, Greece, Portugal, Yugoslavia (Changed Sides) Albania.
After the war, French speaking areas of Germany are given to France. German Baltic puppet states become the People's Republic of Livonia. Polish client state becomes Polish People's Republic. Soviet-Occupied Germany becomes Prussian Socialist Republic and German Democratic Republic. Hungary, Romania, and Bulgaria become Warsaw Pact members while Yugoslavia and Greece become NATO members. The Allies create the Federal Republic of Germany. France annexes Wallonia and Flanders gets its independence from Germany's client state in Belgium. Much of Tyrol and all of Istria are ceded to Italy. All German colonies are given independence. Decolonization begins. The final event I will discuss here is the Turkish revolution, which makes Turkey the first Socialist Islamic state. The Cold War begins.
Here is the map of Europe after the end of the Second World War and beginning of the Cold War.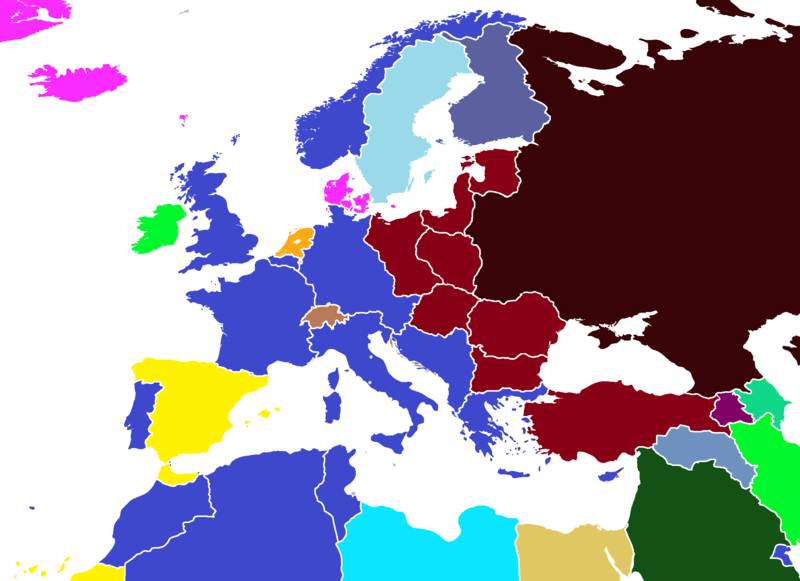 If you want to know more about how I imagine this situation or why I did some of this stuff, feel free to ask me in the comments.
Optio




Posts

: 68


Join date

: 2017-07-08


Location

: United States of America



This was pleasantly detailed and thorough, and probably one of the more plausible alt histories I have come across. I quite like the idea.
However, I must ask: What program do you use to create the maps. I only know of mapchart.net, which is limited in this regard.
Nice job.
Pedes




Posts

: 16


Join date

: 2017-07-19



Similar topics
---
Permissions in this forum:
You
cannot
reply to topics in this forum